2018 diary - Q2 (April - June)
Ref:
Date:
Location:
Photographer:
[clikcontent type=paymentBuyLink replaceable=true]
Ref:
Date:
Location:
Photographer:
[clikcontent type=paymentBuyLink replaceable=true]
Local days out
With two trips away and a lot of work to do at home in the garden I only managed to get out locally this quarter on no more than half a dozen occasions, so there's not a great deal to write about.
I visited
Arne
at the beginning of April for an early morning amble around the reserve whilst it was still quiet. I was hopeful of seeing sika deer, woodland birds, and possibly some shorebirds at Shipstal Point but, during my near two-hour circular walk, I didn't actually see much wildlife at all and only took a few photos of grey squirrels and some poor shots of a green woodpecker. Everything else I saw stayed pretty much hidden away. But, although photographically disappointing, it was a lovely morning and I'd been out in the countryside enjoying a very pleasant and peaceful walk …..
All until I began making my way back towards the carpark when, just as if someone had flicked a switch, the ambience and early morning tranquil atmosphere of the place was suddenly gone. People were arriving and the closer I got back to the car the more I saw. It started with a few individuals and a couple who in fairness were all wearing binoculars, but then there were two noisy joggers and, as I got near the entrance gate, I encountered a large family with a baby in a pushchair and three kids with a football. Sadly the reserve was no longer quiet and restful. And that, in my opinion, is the problem with popular reserves like Arne that are now attracting more and more people who have little if no interest in wildlife, but think it's a good place to go for a day out - to stroll and chat (loudly), to let the dog loose, to jog, to belt around on their mountain bikes, or to take the children (plus their football in case they get bored). I know I'm getting grumpier and more intolerant as I get older, but surely nature reserves should be calm havens where wildlife (and photographers) are protected and undisturbed. There are plenty of recreation grounds and family-friendly country parks that are better suited to those previously noted activities, plus of course here on the south coast there are no shortage of beaches.
Anyway, although it was still relatively early it seemed a bit pointless going on to the adjoining heath as the carpark was now almost half full, so I decided to head back home pleased with the fact that I'd made the effort to get there early and that the carpark gate was open this time (
I don't understand why certain reserves don't allow access to their carpark until halfway through the morning
). However, as I passed the small visitor centre I got waylaid at the feeders where there were quite a few garden and woodland birds, including a pair of brambling and three or four siskin that took my interest. The conditions were less than ideal though because, like many RSPB reserves, little if no attention had been given to the area either in terms of perches or general upkeep (
yes, another gripe
). The feeders were not in a good position and there were only two photographable positions where the birds could perch, one being a low branch in deep shade and the other a decaying log, so I had no option other than to photograph them on the ground. Normally I wouldn't have bothered, but you don't see bramblings or siskins that often so I whiled away another hour or so trying to get a couple of keepable shots. As you can see, it was not a great success as these are probably the best photos I managed - the birds are nice, but the setting is yuk!
xxx
A few days later I had a full morning down on the
Lymington-Keyhaven Nature Reserve
, which was enjoyable as usual, and reasonably productive. The highlight of the morning, despite it being a brief and rather long-distant sighting, was a male garganey on Fishtail Lagoon. The first I've ever seen on the reserve. There was plenty of general waterfowl at that end of the reserve including a number of squabbling coots, plus a few black-tailed godwits, but it wasn't until I began getting closer to Lymington that I started to see other species, such as northern shoveler, shelduck, lapwing, oystercatcher and avocet. You certainly see more variety at this reserve if you do a full circuit, but you need to be prepared for a long walk.
xxx
The only other morning session I had in April that's worth mentioning was at the very end of the month, after our near washout week in Spain (more about that in a bit), when I tried to get a few shots of the Bonaparte's gull at
Longham Lakes
. I'd seen some rather nice images of this 'rare vagrant' that had been on the lakes for a few weeks and thought that with a bit of luck I could nab a few photos of my own. Well it turned out to be a bit more difficult than I thought especially as the first challenge was to find the bird amongst all the similar black-headed gulls. I'd like to say that my spotting skills came good, but after spending over an hour walking a figure of eight around both lakes I finally located it, or to be more precise I came across a chap with a scope and a couple of other photographers who'd spotted it. In fact, if they hadn't of been there, I think there was a good chance that I would have walked right past it. Anyway, regardless of how I found it, it was there happily bobbing up and down on the water in the company of a dozen or so black-headed gulls. It was just a question of patience waiting for it to drift in a bit closer, which it did on a couple of occasions. But, as is usually the case, it was still a bit too far out and most of the time had the sun behind it. I ended up with a few 'record shots', but nothing I would have bothered posting to my Flickr photostream.
Prior to our trip up to Scotland in May I had a day that started on
Portland
and finished with a walk down the River Stour at
Blandford
on the way back home. Part of the work I'd being doing in the garden involved putting in a new pond nearer the house and filling in the old, not very successful one, at the end of the garden that I'd poorly positioned too close to a hawthorn tree. It was a back-breaking job and I needed a rest and a walk to loosen up. So on the day I parked in the Portland Bill carpark so that I could walk along the west cliffs and across the top fields, then down to the main road and return via the east path. The weather was pretty good and the walk was enjoyable. There wasn't much to see though. In fact it was very quiet all the way through. There were a few northern wheatears and meadow pipits near the carpark and in the lower fields, but they were few and far between and quite flighty. Along the cliffs I took a few shots of northern fulmars and a shag on a rocky outcrop, but there wasn't much else about.
Further along I spent a fair while trying to photograph a kestrel that was hunting along the cliff path, but the light was all wrong as I couldn't get the right side of the bird. It always surprises me how close you can get to a kestrel when it's hunting. This particular bird was very relaxed regarding my presence and was happy to try different areas as I followed it along the path. A couple of times it dropped down to hover over the cliff edge at eye height or lower, which would have produced some nice images if the bird had been facing me and the sun had been at a different angle. But there was a breeze coming in off the sea so obviously that's the way the kestrel was facing and predictably the sun had risen in the east that morning, so it wasn't to be. However, it was nice to spend a good twenty minutes or so watching the bird from such close quarters and, in all the time I was watching and photographing it, not seeing another person. I also came across a couple of more kestrels on the way back to the car including one that was on a fence post close to the path that let me approach reasonably close, but again, and without wanting to keep labouring the same point, it was the wrong side of the light. I think that next time I might try walking round the other way and see if it makes much difference. Somehow I don't think it will but I'll give it a try, even though doing it widdershins is considered unlucky.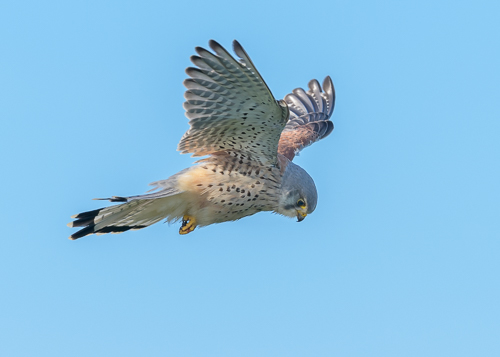 It takes me around 90 minutes or so to drive down to Portland Bill and, if I go via the A354 Salisbury to Puddletown road to join up with the A35 rather than the more direct route of the A31, Blandford is roughly half way. I took this route back so I could stop off for a walk along the river in search of kingfishers and possibly an otter. I didn't see either, but in fairness it was now early afternoon and in addition to dog walkers that you'll always find on the river bank whatever time of day you go, there were young mothers with pushchairs and a number of workers from the town who had come down for a lunchtime stroll or to eat their sandwiches. The quietest area was the final stretch of river near the road bridge and around the pond, and it was on the pond that I spent a while photographing a swan of all things as it was nicely lit against dark water.
I think this image is a prime example of taking advantage of good light even when it's not at the best time of day, because here I photographed a common species that I would normally ignore, yet came away with what I think is a beautiful photo.
That last comment leads me to a final observation in that, after reading back what I'd written so far, I've noticed two common denominators. Firstly that I considered every day 'enjoyable' on some level, which is reassuring even though I've used the word 'enjoyable' repetitively. They were just nice days out regardless of whether the light was in the wrong direction, which was the other thing that struck me as I managed to moan about the light in every write-up. The days weren't marvellous or magnificent, just 'enjoyable'.
Trips
In April we had a few days in
Andalucía
, southern Spain, on a specially arranged five-day itinerary that would allow us to experience the great raptor migration across the Straits of Gibraltar and provide us with an opportunity to photograph a number of different species including the Spanish imperial eagle and the critically endangered northern bald ibis. That was the plan, but unfortunately the appalling weather all but ruined the trip.
We took a late afternoon flight on Sunday 9th April from Gatwick to Malaga from where we were picked up by our guide and driven north to Adamuz, near Córdoba, where we stayed overnight. We had a very early start the following morning in order to be in the eagle hide by first light. Although it was a reasonably well constructed and thought-out hide, in any other situation it would have been hardly worth a mention, but it was almost certainly the most beautifully placed hide we've ever been in. It was set in a lovely remote location on a hillside overlooking a mountain valley, which you reached via a long dirt track off a winding country road. However, after ten hours and despite the location, we were glad when it was time to pack up and head south. Yes, the Spanish imperial eagle did make an appearance, two in fact, but at distance. There are a breeding pair in the forest and on most occasions when the hide is being used one of the birds will come to the bait, but that wasn't the case when we were there. It was very quiet, almost certainly because the weather was on the turn and, apart from those two moments of excitement and anticipation, all we had were a few visits by Iberian azure-winged magpies and a pair of Eurasian jays. But even those birds proved difficult to photograph because of distance and/or the deteriorating light.
We vacated the hide late afternoon as we had a long, three-hour plus, drive south back to Malaga and then west along the coast road to La Linea, close to Gibraltar, that was our base for the next four nights. The whole point of being in this area in April is to witness the migration as birds take advantage of the narrow, 14km wide, strait that separates north Africa from mainland Europe. This is the time of year, apparently, that you'll get to see the sky full of raptors such as short-toed and booted eagles, honey buzzards, harriers and kites, as well as storks and various passage migrants. We didn't see a solitary bird crossing! Our guide was really upset and somewhat embarrassed as he'd never known a Spring like it. We had overcast skies, strong winds and lashing rain for most of the time we were there so it was just a case of getting out when we could.
On the Tuesday morning we managed to photograph a few white storks at a nesting site near San Roque and some lesser kestrels around the church tower in Los Barios before the rain brought an early end to the day's activities. Wednesday was the driest day of the week so we took the opportunity to drive west to La Barca de Vejer in Cádiz province to see if we could find some feeding northern bald ibis. Unfortunately we couldn't find any at the local marsh, but did manage to get a few photographs of them at their roadside nesting site, which was conveniently close to a tapas bar. After lunch we drove round a wetlands area near La Janda to try, pretty unsuccessfully, to photograph gull-billed terns, and then on to the Sierra de la Platta and De la Cueva del Moro for griffon vultures. As we drove back towards La Linea the weather deteriorated again, and checking the forecast confirmed that our final two days were going to be a virtual washout as heavy rain and high winds were expected across the region from mid morning on Thursday.
xxx
We were picked up early on Thursday as it was going to be our only chance of actually getting onto 'The Rock'. Whilst the border control post was only a five minute drive from our hotel, the regular morning traffic of workers crossing from Spain to Gibraltar meant that it took close on half an hour to get through. It was my first time on 'The Rock' and it wasn't quite what I expected, but that's another story. We drove down to Europa Point, which is the most southerly part of the headland where we photographed a few yellow-legged and auduins gulls, before having a look round the tropical gardens where we managed a few 'record shots' of a bonelli's warbler. We then drove the short distance to the Upper Rock reserve to photograph more yellow-leg gulls and see the famous barbary apes, which are actually macaques. As predicted, the rain stopped play before lunch so it was back to the hotel where we stayed all afternoon and all day Friday before our flight back home late afternoon from Gibraltar airport.
It was not a very successful trip and, despite the weather, it's not an area I'd wish to visit again for wildlife photography. It's just not the sort of location we're used to. I never realised it was going to be as busy and noisy as it was. In fact, I'd go as far as saying it was my idea of hell. Don't get me wrong as inland rural Andalucía is a lovely region. We've had city-break holidays in the past in Seville, Córdoba and Jerez, which are delightful towns, and are a far cry from the popular Mediterranean coastal resorts.
In contrast to southern Spain, we had a leisurely, relatively quiet, and surprisingly warm and dry trip to
Scotland
in May, which started with a couple of days in Dumfries & Galloway before a week's stay in a remote cottage at Treshnish on the Isle of Mull. We've stayed at this cottage before and knew that it would comfortably accommodate another couple so we invited our friends Rose and Ian Locock to stay with us. We travelled independently and met up in Dumfries on the Thursday night so that we could visit the Galloway Kite Trail and Bellymack Farm feeding station together on the Friday.
Tris and I drove up a day earlier as we'd booked Alan McFadyn's 'famous' sparrowhawk hide near Ringford in Kirkcudbrightshire on the Thursday. This hide is supposed to take three photographers and is offered on that basis. Fortunately we'd booked exclusive use and I'm glad we did, because three would have been a crowd. It seats two reasonably comfortably, but if you're going for the day and want to get the most opportunities with two cameras and are prepared to accept the cost, sole use is the best option. We had a good day there as the male sparrowhawk (possibly Mad Max) made no less than five visits - some were pretty brief, but on two occasions it stayed for a good 5-10 minutes. In addition we had regular visits from a pair of great spotted woodpeckers, Eurasian jay, Eurasian siskin, lesser redpoll and a few other woodland passerines, plus a number of red squirrels.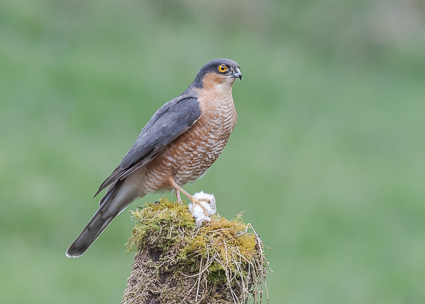 xxx
On the Friday we all loaded ourselves into my Landrover and drove part of the
'Galloway Red Kite Trail'
before visiting Bellymack Farm in the afternoon. My associated photo gallery and introductory write-up refers, so I won't repeat any of that information here, other than to say it was an enjoyable day and reasonably productive, photography wise, at the feeding station.
We had an early afternoon ferry booked from Oban to Mull on Saturday 12th May and, after stopping off for some supplies en route, were in our cottage and unpacked by 6pm, which gave us enough time to get showered and changed before going to the local pub in Dervaig for dinner.
Ian had been allocated the job of Entertainments Officer for the week when we first arranged the trip, which turned out to be a good appointment because, with his previous knowledge of the island, he'd organised a private late afternoon session on the sea eagle boat with a flexible arrangement subject to the weather, and a full day 'birders' trip to Lunga on either the Tuesday or Thursday.
The weather was settled when we arrived, so the boat trip was arranged for the Sunday. In the morning we had a leisurely drive round Loch na Keel, but didn't see a great deal. We stopped a couple of times to try to photograph great northern divers, but they were too far out to get any useable photos. We also tried for dippers on the River Ba, a location that Rose and Ian had found on their last trip. It was only a short stretch of river, in fact more like a wide stream, but it was rocky and fast moving and perfect habitat for dippers. Unfortunately though the far bank was in deep shade and although we located an immature bird it was very difficult to photograph - this is probably my best effort.
The Mull Charters boat trip in the afternoon to photograph white-tailed sea eagles was a great success and, without doubt, the highlight of the trip, so much so that I've included a dedicated
'Mull Sea Eagles'
photo set and introductory write-up under my British Isles 'selections' gallery. Please see that entry for further information.
The Lunga trip was provisionally booked for the Tuesday, but the weather forecast suggested that we'd be better moving it to the Thursday which we duly did. We spent the other days exploring all the known sites around the island but, somewhat understandably, kept finding ourselves at Loch Spelve which is one of the quietest spots on the island. Here we photographed species such as oystercatcher, lapwing, common ringed plover, snipe and common gull, plus some long distant attempts with great northern diver again, eider and red-breasted merganser. We also saw a couple of grey seals and an otter.
The boat ride out to the Treshnish Isles on Thursday took us first to Staffa where we were entertained by three bottlenose dolphins and then onto Lunga where we stayed for a few hours photographing the Atlantic puffin, razorbill, common guillemot and a few other seabirds. And then, on the way back to Mull, we had a brief opportunity to photograph Atlantic grey seals on some rocky outcrops around Staffa. It was a good day.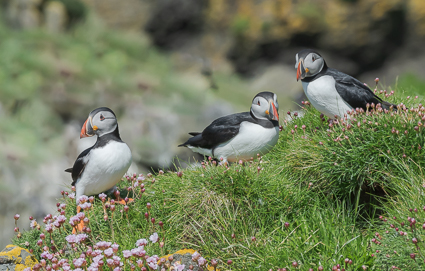 xxx
All in all it was a very enjoyable week and a new experience for us as it was the first time that we've been away with friends where we've shared accommodation.
Other events and news …..
Cameras and lenses
Further to the rather long write-up at the end of my previous journal regarding various equipment issues, I thought that a follow-up was in order to confirm a couple of subsequent events.
Firstly, given that I'd already decided to take my 200-500mm f/5.6 and 70-200mm f/2.8E zoom lenses on our recent trip to the Pantanal and leave the heavier and bulkier 500mm f/4E prime lens at home, I considered that if I was going to send the lens to Nikon in respect of the possible astigmatism issue then this was the time to do it. So after returning from Scotland, and following some lengthy correspondence, it was agreed that I would send them the lens and my primary TC-14E III teleconverter so that they could get one of their technicians to check it over. I confirmed that I was totally happy with the lens per se, but rather unimpressed with IQ when it was used with the TC. However, the main reason I wanted Nikon to look at it was because of the possible astigmatism issue that was highlighted by the FoCal lens calibration software. The test results suggested that there was an element alignment problem and my concern was that it could get worse and that, regardless of how the lens had been performing, it may be affecting IQ to some small degree particularly with the TC. A number of e-mails were exchanged before the lens was despatched on 22nd May. Interestingly Nikon insisted that they could not comment on the third party (FoCal) test reports I sent them and would have to carry out their own tests, presumably with Nikon approved software. A month later on the 18th June I received a report that confirmed that the lens had been thoroughly tested and was found to be "performing well" with "all tests producing sharp images". This is what I expected. However, the report went on to say that to ensure the lens has been assessed thoroughly, the workshop had carried out their own calibration checks using one of their cameras with the same FoCal software! And, perhaps not surprisingly, found that it did "indicate an alignment issue". They then went on to confirm that the UK workshop did not have the required facilities to check and correct internal element alignment issues and that if I wanted to have that done the lens would have to be sent to Nikon's workshop in Germany or possibly back to Japan. Notwithstanding the time this would take and any possible costs, Nikon left me with a quandary because they were giving me the option. I found that unacceptable and insisted that they gave me their recommendations as I didn't want to have the lens back if there were potential problems that could manifest themselves in the future. They agreed that it made sense to have the issue looked at properly, so the lens was sent to Germany. As of today, Monday 23rd July, I have no further news. I'll give them another few days and then start chasing as I'm still debating whether I should take the lens to the Great Bear Forest in September.
The other matter worth noting is in respect of my previous comments regarding the D850 and my decision to purchase a D500 as a second body. I used both cameras and three different lenses whilst in Scotland, particularly on the day we were in the sparrowhawk hide and, taking into account the conditions and my concerns about using the 500mm f/4E with the TC-14E III, I was generally happy with the results. When I purchased the D500 I was adamant that it would be my second back-up body and that the D850 would, without doubt, be my primary camera. However, on our recent trip to Brazil (more about that trip in the next journal) I quickly realised that it would be beneficial to use the 200-500mm f/5.6 on the D500 as the 1.5 crop gave me an effective 750mm focal length, which was helpful with many of the bird photo opportunities. I ended up using that particular camera and lens combination for virtually the entire trip. If it had been a safari with more animals then I would have used the D850 more, but a lot of the time it was more convenient to work with just a single camera. The effective 300-750mm focal length proved suitable for most situations. Whilst it may seem strange that I took the D850, but only used it a handful of times, it's probably right for me to come clean regarding another issue. And that is whilst I carefully packed my Lexar 500GB back-up drive I stupidly forgot about removing the matching XQD card reader from the Lexar hub on my desk. So although I had eight 64GB XQD cards with me I was a little concerned that if I started taking a lot of photos with the D850 I would quickly get through them without any means of downloading. I'm still not sure how many D850 images will fit on a card, but I think it will be around 900, whereas I was getting nearly double that by using the D500. I came back with around 8000 photos so theoretically I would have needed at least two or three more cards if I'd been using the D850. I know that mathematically I would probably have needed nine cards, and may even have squeezed all the shots on to the eight cards I had with me, but if you follow advice you'll try to leave some free space, ideally 10% to 20%, and when you take that into account the number of D850 files on each card would have been more like 750 or so.
Website maintenance
The only other matter that warrants a mention is in respect of the 'website maintenance' note on the Home page which, amongst other things, confirms that my 'D850 diary' and 'weblog' sections are going to be revamped and, as such, are temporarily hidden. Not only am I constantly updating and adding content to the site, but I'm also trying to slowly complete all the photo galleries. These tasks have been taking priority and, to be honest, I didn't appreciate how time consuming it is to keep everything current. I really want to get to a situation where I have more time to write occasional articles for the virtually unused 'weblog' and to add more content to the 'D850 diary'. But, in respect of the latter I now have a D500 and, consequently, it makes sense, to expand the D850 entries to incorporate information about both cameras. So the revamp is to combine all these things together as individual articles under the 'weblog' section.
At the moment I'm working on my recent Pantanal photos which is going to take some time, because I already know that I have a lot of images from this latest trip that I want to add to either the associated 'bird' and 'animal' sets within the 'selections' gallery or to specific species sets in the 'collections' gallery. I need to get this done before our next trip in September, but all things being equal I should have time to deal with the 'weblog' revamp as well. In the meantime, any currently existing articles can be accessed via the 'SiteMap' index.
The website is a longterm project and, as such, the format and content will continue to evolve.