2018 diary - Q1 (January - March)
Ref:
Date:
Location:
Photographer:
[clikcontent type=paymentBuyLink replaceable=true]
Ref:
Date:
Location:
Photographer:
[clikcontent type=paymentBuyLink replaceable=true]
Local days out
Personally I find it quite difficult to stay motivated when I'm having one bad day after another, whether its due to the weather, my choice of venue or simply that I can't find anything to photograph. That was certainly the case at the beginning of January and, although the month did get better, the first couple of weeks of the new year were particularly disappointing for one reason or another. Whilst good 'ole mother nature' can be somewhat unpredictable at the best of times, you would have thought that if you're trying to stay positive and are putting the effort in you'd get some reward for your troubles. It's bad enough when you're having an unproductive day when the weather is fine, but when its cold and windy, or worst still dull and wet, you really do have to start questioning what you're doing. Well, I certainly do, which is why I have to keep reminding myself that I shouldn't expect great photographic encounters every time I go out, and that I wouldn't have any encounters at all if I didn't make the effort in the first place.
My first trip of the year was to Longcross Plain and Eyeworth Pond at Fritham. This area of the New Forest has always been pretty reliable in early January for various species, but not this year. In fact I don't remember ever seeing Eyeworth Pond so devoid of life - just a few mallards over towards the far bank. I can't remember if I photographed anything that particular day, but if I did I certainly didn't keep a single shot. It was the same story a couple of days later on Portland and at Lodmoor, and although a return visit to Lodmoor produced my first keepable photo of the year the situation wasn't getting much better. So, with just one image of a grey heron from my first three days out, the year certainly hadn't started well.
I needed a change of luck, so when I read that a few common goldeneye were showing well at Poole Park and, as a bonus, there were also a pair of red-breasted mergansers and an immature great northern diver present, I knew it was worth a visit. Whilst wintering goldeneye usually draw me to this venue in January, it's the kind of public place that I'd normally avoid like the plague due to the numbers of dog walkers, cyclists and families. It's just not the type of environment I enjoy, as invariably something or somebody will spoil the moment. But, with the likelihood of getting some pictures I thought I'd take a chance. I arrived early, parking at Baiter so I could take the long walk round the bay. It was a pleasant, albeit breezy morning and, although there wasn't anything on the sea, the adjacent flooded fields had large numbers of wintering brent geese and oystercatchers on them. They were too distant to photograph and far too wary to try to approach, but it was good to see and a nice sight to start the morning. That was until a couple of dogs decided to run at them without the owner even attempting to call them back. The dogs were barking, the birds were scattered and taking flight, and the owner just carried on walking, phone clasped to her ear and totally oblivious!
When I arrived at the main lake I was surprised to see it so empty. I scanned around with the binoculars picking up two pair of goldeneye right out in the middle, but there were no mergansers and definitely no sign of the diver. I spoke with a local who confirmed that although they'd been present for a while they hadn't been seen for a couple of days - typical. I then walked round to the swan feeding area where there were a few black-headed gulls and a couple of greylag geese, but not much else. It wasn't looking good, but as I made my way back towards the boating lake I was pleased to spot another pair of goldeneye that I'd missed earlier and that they were a little bit closer, although still far from being photographable. I hung around patiently and, after about twenty minutes or so, was rewarded as they took flight and landed in the boating lake. Not only were they now in range, but the water was far less choppy than the main lake. Things were looking up. The only problem was that I was the wrong side of the light, so I had to slowly make my way round onto the narrow walkway that separates the two bodies of water in order to get the right angle. It took me a little while, because I wanted to make sure that I didn't spook the birds. When I got to where I wanted to be I saw that the plan was coming together as they were now in good light and seemed relaxed. I settled down and took a couple of shots and then watched them diving and gradually working their way towards me. At this point I was feeling quite confident.
But in keeping all my concentration on the birds, I'd missed all the people who had congregated on the far bank and the model yachts they were launching ready for the start of a race. Next thing was a loud whistle being blown, followed by a few shouts, a dozen or so small vessels aimed in my direction and, not surprisingly, two goldeneye in flight. I gave up and went home.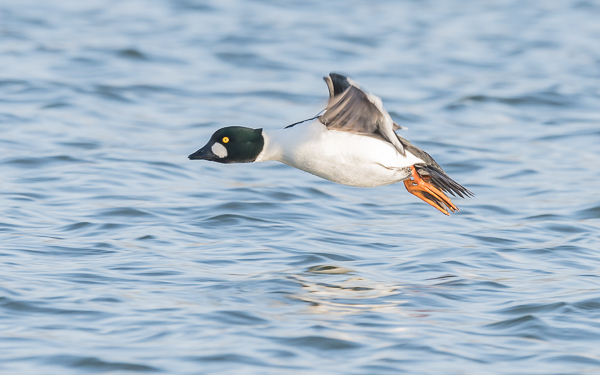 A couple of days later, just before departing for our two-week trip to The Gambia, I decided to head east for a change. It was another bright, fresh morning, so I thought it would be good to stretch the legs with a long walk from Keyhaven to Lymington to see what was around. There are stretches of this coastal path that can be quite productive and others where I never seem to see much at all, but you need to make the effort and be prepared for a long walk if you want to check out all the lagoons and surrounding areas. I didn't have any particular species in mind as I just wanted some subjects to photograph where I could take a few shots with and without a teleconverter. Although I'd calibrated my new D850 and my 500mm f/4E lens prior to using it the first time I wasn't particularly impressed with the few photos I'd taken with the TC-14E III fitted. I touched on this issue in my previous quarterly diary but, even now three months later, I'm still undecided, so as a personal reminder I'm going to add a few notes in the 'other events and news' section at the bottom of this journal entry rather than discuss possible issues here.
Keyhaven lagoon was very quiet apart from a few widgeon and teal mixed in with the mallards, and Fishtail lagoon wasn't much better except for a lone grey heron and a couple of little egret out on the small islands. It wasn't until I got down towards Lymington that I added a few other species such as a curlew, a few redshank and a small group of northern pintail, but all in all it was about as quiet as I'd ever seen the reserve. That didn't particularly worry me as it was a nice day, but it was a bit disappointing in respect of testing out the lens and teleconverter. However, on the walk back to the car I found a couple of feeding red-breasted mergansers on the long and narrow Pennington Lagoon that were as confiding a pair as I'd ever encountered. The only problem was that the strong breeze and pull on the water was taking them down the lagoon at a faster rate than I could manage as I tried to make my way along the steep, gorse-covered, slippery bank as quietly and unobtrusively as I could. Anyway, despite those problems, I had at last found a good target and was reasonably confident that I was going to come away with a few nice shots.
On the back of the camera all these shots looked pretty good. The focus was a bit off now and again, because I was often shooting from a less than perfect position, but I managed to get around fifty or so images on the card before I couldn't follow them any further. Although these relatively small pictures look absolutely fine at this size the same images on Flickr, and indeed when viewed large on my 27" iMac, look a bit soft. As far as I can see it's not a case of being out of focus as such, it's just that they are certainly not as sharp as they would have been without the teleconverter. I kept the TC fitted most of the day, but there were a couple of occasions when I removed it to get some comparative shots and in all cases the photos without the TC were noticeably sharper when cropped to the same size as those taken with the TC. I proved this again a few weeks later at Lodmoor when I tried a similar exercise when photographing some Canada geese, so until I have an opportunity to recalibrate the combination I'm not using the TC. In most situations the ability of being able to crop tighter with the D850 files caters for the loss of reach that the TC provides, and with the benefit of not loosing a stop in aperture. There are further observations and possibilities to consider as noted below.
So that was how the first three weeks of the new year panned out. And with the results of my trip to Keyhaven, it's no surprise that the TC stayed in the cupboard when I packed my camera bag for our long awaited trip to The Gambia. We departed on Tuesday 23rd January and returned two weeks later with around 7000 photos each to process, so virtually all of the remainder of February was taken up with sorting through those images, compiling the website photo set and penning the accompanying travel section write up.
My next trip out locally was at the beginning of March. There was a Ross's gull in Weymouth that was being seen at Ferrybridge, Radipole Lake and Lodmoor, so although I wasn't going to be too obsessive about trying to photograph it, it was a good enough reason to head down to that area. In fact I made three visits in total over the next few days and, suffice to say, I missed the bird on every occasion. The situation reminded me of my search for the grey phalarope at Keyhaven at the end of last year when I'd get home and find that it had been seen and photographed within an hour of me leaving. It was exactly the same with the Ross's gull, except that I eventually got lucky with the phalarope whereas the Ross's gull remains as an unseen and photographed species. Those three trips were largely disappointing. The most note worthy encounters were a small flock of Med gulls at Lodmoor, an encounter with a foraging water rail that was briefly out in the open at Radipole and the star of the show being a short-eared owl at Portland.
The owl was a real bonus as it was mid morning and the first time I'd seen one that early as they normally don't start flying until later in the afternoon. I don't know what put them up as there were very few people around. I'd walked through a particular area keeping a very careful watch just in case I could spot one on the ground, but there was nothing to be seen. I was going to carry on back towards the car, but for some reason changed my mind and decided to double back and go the long way round via the coastal path. As I entered another field I spotted an owl flying low on the far side. It was only up for a few seconds as it seemed to be changing location, but it disturbed another bird that came up from the long grass and briefly landed on a fence post. It was way in the distance and I was out in the open. I knew that it was pointless trying to approach the bird so I kept still and waited. My luck finally changed as it flew in my direction and landed on another post that was still a bit further away than I would have liked, but I certainly wasn't going to complain.
Wildlife photography can be very challenging at times, but it's amazing how one brief moment can can turn things around.
Overseas trips
At the end of January we finally made our return visit to
The Gambia
- this is the trip that had to be cancelled last year because of a political situation. We'd been to the country before, back in 2013, when we stayed at Mandina Lodge in the private Makasutu Forest. This return trip was a completely different experience as it was an organised two-week long, small group, photography tour that took us up river to visit a number of well-known birding locations. If you haven't been to West Africa before, it's a destination that's worth considering if you're interested in seeing lots of different birds, but make sure you do your homework first to avoid any surprises! If you've been to East Africa and are thinking that West Africa would make a change, you'd be right, but probably not in the way you were thinking! In East Africa there's investment, understanding and choices when you're on safari. Not so in The Gambia. Also remember that The Gambia is primarily a birding destination. You may see a few monkeys and possibly a crocodile or two, but you'll be lucky to see any other animals if you're just travelling around. And, as I mentioned earlier, an upcountry trip is very different from being based in a coastal hotel or lodge, where most people stay. If you're reading this and want more information then you'll probably find my associated 'travel section'
write-up
of interest.
xxx
Other events and news …..
Apart from arranging a self-drive tour of northwest Iceland for next year, there's little else worth noting in this diary entry so I'm going to use the space to make some personal notes and observations about my initial experiences and feelings about the D850.
I've had the camera now for four months, in which time you would have thought that I would have put together some sort of review for my
'D850 diary-come-blog section'
. Sadly that's not the case because, apart from our Gambia adventure and the generally unsuccessful local days out that I wrote about earlier, I haven't been able to test it as thoroughly as I would like. I need more time and to be able to use it in different conditions. I thought that one such opportunity would have been in southern Spain, from where we've just returned (more about that in the next diary), but even that trip was spoilt by appalling weather. So, although none of this constitutes a review as such, there are a few things worth noting that are either directly or indirectly related to the camera.
Starting with the D850 body itself, I can honestly say it's the most comfortable, well balanced, responsive and ergonomically (near) faultless camera that I've ever used. There are just so many things I like about it. I really don't have any negative comments except, possibly, the fact that it's bordering on being too perfect. And there lies the (potential) problem. By this I mean that if you're in the right situation with good conditions and adequate light, the camera will most likely perform very well. Obviously it will need to be coupled with a suitable well-matched lens and possibly, subject to the lens and situation, need to be mounted on a tripod. And, even if all those requirements are being met, your exposure settings and technique will also need to be correctly applied.
Okay, all of that may be a bit over the top, but the point I'm trying to make here is that the camera is quite demanding. Some requirements, such as the right glass, support, technique etc can be controlled. Conditions can't, and it's when you're faced with challenging conditions that you'll realise the camera doesn't give you any advantages. In fact, all those megapixels suddenly become a bit of a problem in my opinion. High resolution and the facility of being able to crop aggressively in post processing are great features when conditions are good, but can become a hindrance when you're struggling with poor light and slower than required shutter speeds. Obviously you can't let all those factors control when you use the camera. Nor can you limit it to only being used on a tripod - in fact I've been using it as much handheld as supported. But, the truth of the matter is that it does have limitations, and it's those limitations that need to be discovered.
You need to understand when the D850 is going to deliver and when its going to struggle, which I suppose is another way of saying that I'm already starting to feel that it won't be a 'suit all situations' camera. So to sum up, I'm now going to be referring to the camera as
The Diva
, as in '
temperamental and difficult to please
' - an appropriate term used by one of my Flickr contacts from South Africa who has been going through the same thought processes as I have, and with whom I've been sharing some initial views and opinions.
Next is lenses and the importance that's been placed on using good quality glass with the D850. There's been a lot written about this subject, probably more than for any other camera. The lists cover all suitable lenses from the longest telephoto primes down to macro and fisheye. For now I'm only concerned with my three primary wildlife lenses; the 500mm f/4E, 200-500mm f/5.6 and 70-200mm f/2.8E. Nikon list all three, whereas Thom Hogan says the 200-500mm is questionable. I have few issues with it. It worked surprisingly well on my D810 and, from what I can currently see, is performing equally as well on the D850. It has its limitations, but at the price it's a blimmin' good lens. Although I'd still use the 500mm f/4 every time in the UK and where possible in Europe, the smaller, lighter and more versatile 200-500mm f/5.6 zoom is my now go-to lens for when I travel to Africa or South America.
The problem I have is not with my lenses per se, but with the 500mm f/4 plus TC-14E III teleconverter. I touched on this issue earlier, so won't repeat what happened when I first tested the combination. Instead I just want to list for personal reference some possible reasons why the merganser photos I took that day appear slightly 'soft', and some things to consider :-
1)  the photos were taken in very bright sunny conditions, which wasn't ideal, and although there was no noticeable sign of
     'heat haze' coming off the water it was quite likely seeing that it started off as a very cold morning,
2)  the eyes weren't sharp in any of the shots, but these birds were constantly diving so were coming up with filmed, watery eyes
     so maybe they weren't the best subjects,
3)  whilst the camera was on a tripod, in fairness it was on a steep, heavily vegetated bank and wasn't that well-placed at times
     as I had to keep moving along as the birds drifted down the lagoon,
4)  the focus point wandered off the eyes/head on a couple of occasions, but all the photos looked the same, which is interesting
     and may just show that this wasn't actually a focus problem,
5)  despite there being no real evidence of front or back focusing when I studied the photos on the computer, there are still some
     doubts about the combo being correctly calibrated as it was tested at 11m rather than 15m as recommended by FoCal,
6)  following on from the above, it makes sense to recheck calibration in the garden at both 15m and 20m as soon as conditions
     are conducive, particularly as the previous test only produced an 'acceptable' result - possibly because the target was slightly
     closer than the focal length x20 recommendation,
7)  it would also be interesting to carry out the same test using both TC's to see if the results are the same (albeit I'm not sure
     whether the camera can determine a TC by serial number or whether both will be seen as one as they are identical),
8)  the only other possible issue is whether the lens's VR should have been turned off - although there are so many views about
     the use, or not, of VR it's not something that I've been too hung-up about as I've never noticed any real difference. Mine is
     switched on and set to
sports mode
where it generally stays.
Another point I can't really ignore is that the FoCal test results confirmed that my 500mm f/4E was exhibiting a significantly higher astigmitism factor than other users, which could indicate internal element misalignment. The measured astigmatism factor was 8.9% compared with a typical value of 1.4% to 2%. And the astigmatism range was 9.2% compared with a typical value of 2.2% to 4.7%. These figures were without the TC on the D850. They were worse with the TC, being 12.6% compared to typical values of 2.7% to 3.3%, and 19.8% compared to 6.7% to 7.3%. The question is whether this is truly important. It's certainly a concern and one that I put to Fixation in the hope that they would be able to check the lens, but unfortunately they don't have the necessary equipment and, consequently, could only suggest that the matter is referred directly to Nikon. That remains an option, but there are considerations in getting it to them and in respect of the turnaround time, so at the moment I'll keep the possibility in mind until I've carried out further tests of my own.
This brings me to the final item I'm going to mention, which is an alternative or supplemental body. For quite a while before purchasing the D850, I had two identically set up D810's - one acting as my main camera and the other as a spare or second body when operating from a safari vehicle or, on occasions, when in a hide. I've previously spoken about the possibility of having two D850's, or just keeping one of my D810's as a spare until the D5 gets upgraded and then considering whether that would make a good combination. Whilst I definitely want (need) two camera bodies, I've ruled out two of these options for various reasons.
If the D850 could be classed as a 'suit all situations' camera in the context of wildlife photography, then my original idea of swapping out both my D810's for two D850's was valid, albeit expensive, but given that I've now named it
The Diva
it's obvious that having two
Divas
isn't a sensible proposal. It would be like trying to organise a concert with Mariah Carey and Beyoncé - it wouldn't work. So, the possibility of two D850's is no longer a consideration.
I had a feeling that would be the case, so was pretty sure that I would simply run the D850 alongside my remaining D810 (one having been traded in) until either the D5s/D6 was announced or possibly the D760, or I finally bit the bullet regarding going back to a DX crop sensor body and considered the D500. Surprisingly that option was short-lived because, quite simply, when I now pick up the D810 it already feels dated and noticeably slower in operation, particularly in respect of AF performance, than the D850. It would be okay if I only wanted it as a spare body, but not when I need a second camera and lens option readily to hand - the two lens combinations that I would use are 500mm f/4 plus 200-500mm f/5.6 when working from a static position such as in a hide, and 200-500mm f/5.6 plus 70-200mm f/2.8 when travelling and photographing from a safari vehicle.
So, given the above situation it was a question of what to do?
I've mentioned a number of times in previous posts that I have a couple of dilemmas in respect of the other two options that are currently available, being the D5 and the the D500. I'll start with the D5 and reconfirm that for some while I've had a lust for owning a top-of-the-range, full size, professional body - first it was the D3s, then the D4s (which I actually had for a very short time) and now the D5. It was never the case of simply wanting the best and most expensive model, but more to do with what that model offered in terms of AF and ISO (low light) performance, coupled with frame rate and build quality. Now, as we know, some of those features have been pushed down the line and are now available with both the D850 and D500 so the benefits of owning a D5 as well as a D850 for example are, in my opinion, less than they were when matching the D5 with the D810, or D4s and D800. But the hard cold fact that you'll never get away from is that Nikon will always ensure that their top end professional model will generally perform better than any other camera they offer. Admittedly a camera such as the D850 will offer features such as increased dynamic range and higher resolution, but it is very important to properly consider all the pros and cons of all these options and what they actually mean in a real world situation.
There are two main reasons why I haven't relented. The first is that I've always preferred Nikon's smaller prosumer size body and, as I noted above, the D850 is without doubt the most comfortable, well balanced and responsive camera that I've ever used. I rarely shoot in portrait format so have never considered purchasing a separate grip and have never thought that I'm missing out by not having it integrated into the body. The increased size, and indeed weight with the larger battery, would just be a hindrance. I know that many photographers like the feel of the larger body and that it fits more comfortably in the hand, but for me that's not the case. I could get used to it, but it's always been something at the back of mind, not only because of its physical weight in operation but also in respect of travelling when I'm already struggling with camera bag capacity and airline restrictions. The second reason is that I've never been comfortable with the price differential between the top models in the range. Despite the cost of the D850 being considerably more than the D810, thereby making the difference between it and the D5 proportionally less than it's been with previous generations, the actual cost differential is hard to swallow. If I compare the cost of the D5 (£5389) today from Wex with the D850 (£3499) I see that it's 54% more expensive - that's massive, even if it is big improvement from when the D5 was (and still is) more than twice the cost of the D810.
But, and there's always a but, the D5 still has advantages, not least being its ISO (low light) performance. Consequently it remains as a possible buy for the future. In fact, if it hadn't already been due for an update I would have been giving it serious consideration now because, forgetting size and cost, there's no doubt in my mind that a D5 and D850 would make a great combination. However, I wouldn't consider purchasing one now after pondering over it for so long only to find in a few months' time that the next generation is being announced. Over the past few years Nikon has upgraded its professional body on roughly a two-year cycle in time for the Olympics. Given that the D5 was launched in January 2016, many thought (almost assumed) that a D5s version would have been announced in time for this year's Winter Olympics in South Korea. Obviously that didn't happen so it's pretty likely that this generation won't have an interim upgrade and that we'll have to wait for the D6. Personally I think there are two important reasons why this has happened. Firstly, what could Nikon have added to justify a new version? Anything significant will surely be held back for the D6, so any attempt to bring out a D5s to replicate what they did with the D3s and D4s would have offered little and would only have resulted in bad press. The other reason is that the next Summer Olympics is in Japan in July 2020. That's big for Nikon, particularly bearing in mind that whilst their prosumer bodies (D850 and D500) are made in Thailand the professional (D5) cameras are manufactured in Japan. So, although I still can't see what else they could add other than an improvement in megapixels, I'll just sit it out for now and wait and see what happens late 2019 / early 2020.
In the interim though I still need a second camera if I'm not going to retain one of my D810's. Well, perhaps not surprisingly, I've decided to give the D500 a try. My reasoning is simple. Firstly, with a good part-exchange price from Wex for my remaining D810, the amount I've actually had to pay for the D500 isn't a great deal even if I only end up keeping it for 18 months or so (assuming the D6 becomes a sensible option). Secondly, the layout and feature set is almost identical to the D850, which make switching between the two very easy. And, thirdly, it will definitely get used far more than if I was to hold onto a D810 so it will truly be a second camera rather than just a spare body. Whilst I believe those reasons are sound, a few paragraphs back I mentioned that I have a dilemma regarding the D500. In fact I have two dilemmas. The first is the thought of taking what I regard as a backward step to a DX body, as I thought that when I upgraded many years ago from my D300 to a D700 it would be full frame FX format for ever more. And, more importantly, what am I actually going to use it for? That might sound strange, and it would if I was talking about using it in conjunction with a D5 or D750, but when comparing it with the D850 the main benefit of the perceived extra reach that you get with the 1.5 apparent magnification factor of DX (words chosen carefully) is effectively eliminated as the resultant images, if compared at the same size (subject), would be virtually the same. The important point to remember here is that you're trying to make the subject larger in the frame and that would be the case in respect of comparing an un-cropped image from both an FX and DX camera, but with the large file size (8256 x 5504) produced by the D850 you have to remember that if you used it in DX mode, or indeed cropped it to that equivalent size during post processing, it would produce a file (5408 x 3600) that is very similar to that produced by the D500 (5568 x 3712). That's a difference of about 6%, which is nothing. I'm primarily thinking here about bird photography where, the bulk of the time, distance is your enemy and that - almost regardless of your camera and lens choice - you have to crop during processing. Obviously the comparison of pixels to subject is the same with animals, but when on safari I can see some merit in having the D500 set up differently from the D850 in terms of AF area where, if an action situation arose, you could benefit from the extra 3fps. At the moment I really can't think of any specific situation where it would make sense to use the D500 in favour of the D850. The only two things that could are ISO performance and camera sensitivity in terms of handholding. From everything I've read, ISO (low light) performance between the two are similar, but with most reviews giving the D850 FX sensor the edge, so I can't see that I'm going to experience anything different. I wish the D500 had a clear advantage because it would stop me thinking about the D6, but it doesn't. The other point though is interesting and one that I haven't seen anybody else talking about in any detail. And that is in respect of handling. What I mean is that the D850 is
The Diva
and she needs to be handled with care whereas the D500 is regarded as a workhorse camera that has a more sensible resolution for general day-to-day photography. Think here 45.4Mp v 20.7Mp, which is a massive difference. But, and I'm conscious that in this long post there have been a few buts, the D850 contains a full size FX sensor whereas the D500 is a DX camera fitted with a smaller crop sensor and, consequently, if you do the maths as noted above, the actual pixel density between the two is much the same. So what I don't understand is why the D850 should be regarded as a camera that needs quality glass and faster shutter speeds, particularly if handholding when similar comments aren't being made about the D500. I'll be giving that matter further thought over the coming months.
I wanted to add some other notes regarding computer hardware and software with relevance to the D850 and the handling of its large files, but this post is already much, much longer than intended so for now I'll hold the subject in abeyance for either another time or possibly as an article for the D850 blog. In fact I might, contrary to what I said at the start of this write-up, put a version of this entry on the blog in the absence of an actual camera review and extend it to include my thoughts and experiences about computers.