2017 diary - Q3 (July - September)
Ref:
Date:
Location:
Photographer:
[clikcontent type=paymentBuyLink replaceable=true]
Ref:
Date:
Location:
Photographer:
[clikcontent type=paymentBuyLink replaceable=true]
Local days out
Apart from one amusing, albeit extremely frustrating incident, there's not a great deal to report about the few days I went out locally during this period. In fact, looking back, I realise how few photos I actually took, let alone kept. I think the most pleasing were probably the two coot shots from
Longham Lakes
in August that I posted on my Flickr photostream, which had an element of cuteness about them - or should that be cootness!
xxx
Anyway, back to that incident I mentioned. For some reason, I've mistakenly given little attention to close-up/macro photography in the past, particularly with regard to using flash. I have the necessary kit but, to be honest, the idea of going out and photographing butterflies and the like in the UK has never really appealed. I may well adopt a different view in the future, but that's been the situation up until now. However, as we'll shortly be off to the Amazon rainforest, where there will certainly be some small, but more interesting, subjects to photograph, I thought that I should spend a bit of time practising. And the only way I was going to discipline myself to do that was to go out with just my macro kit. I'd then have no other option than to spend the day focusing on what was close by and ignore everything else. So, with the plan set, I headed off to
Higher Hyde Heath
, which is a Dorset Wildlife Trust reserve that can be pretty good for all sorts of close-up and macro work. Well, ignoring the kingfisher I saw at the pond, which was the first frustrating sighting of the day, the only suitable small subject I could find to photograph was a mushroom deep in the shade. It was a pretty mushroom though, and it didn't move, so I spent quite a while fiddling around with different flash settings - one flash, two flashes, side light etc, etc, which I have to admit was good practice. But, I just couldn't find any reptiles or insects to photograph, so I decided to move on and stop off at
Morden Bog
on the way back home.
As I climbed over the gate from the road I thought it would be just my luck if I saw something good like an osprey. I have seen one here before and a couple had been spotted a couple of days earlier over the Wareham channel in Poole Harbour, which isn't that far away. Well, you've probably guessed, so to cut a long story short, an osprey is exactly what I saw as I started walking down towards the lake. It was perched and, to be honest, because my focus was elsewhere, I hadn't seen it until it flew. Fortunately, or not - given that I only had my 105mm macro lens with me - it only flew 50m or so to a dead tree near the edge of the lake. I consoled myself with the fact that it would be too far off even if I'd had my long lens with me. It then flew off again, this time in the general direction of Wareham, but half an hour later as I was making my way across the heath from the lake, it unbelievably appeared again out of another tree right in front of me, circling and calling, at which point its mate joined it from another tree! And, even though I was out in the open, they both decided to circle above me for a good couple of minutes before slowly drifting south towards the coast. And, to make matters even worse, not only were they flying low, the light was good. That was bad enough, but the story doesn't end there, because late morning as I was heading back to the car, one came back and flew directly overhead. This time I was so frustrated I even took a couple of shots with my macro lens! I can laugh about the incident now looking back, but at the time I wasn't particularly amused. Not only didn't I have a long lens with me, but I didn't even have my binoculars. I can't remember the last time I've been caught out like this but, one thing's for sure, it's not going to happen again. But I also know that if I'd been fully equipped they probably wouldn't have been there! Seeing an osprey in Dorset is difficult enough, but having a close sighting of a pair has to be considered a rare experience. Better luck next time, hopefully.  
At the end of September, Tris and I spent a pleasant morning walking around
Portland
followed by a couple of hours at the
Lodmoor Nature Reserve
in Weymouth. Whilst Lodmoor can be quite productive at certain times of the year, it's also become a bit of a social venue where we often meet up with fellow 'togs' from that area who we may only see on a handful of occasions each year. The afternoon we were there, we were talking to a couple of friends whilst waiting for something to happen, when the great white egret, which had been at the Reserve since the beginning of the month, suddenly made an appearance. He flew into one of the main open areas to fish, but was immediately chased off by one of the resident grey herons. Not to be deterred, he flew down the west bank towards the shallower end of the lake where the gulls like to hang out. But he hardly had time to settle before another heron attacked him. The message was clear - "this is our patch and you're not welcome!". Although the great white egret [
Ardea alba
] has bred in the UK, it is still regarded as a migrant species, although with recorded numbers increasing each year it will be interesting to see if they become as established as their smaller relative the little egret. They're certainly not going to go away, so our resident grey herons will have to learn to accept them.
Another similar, autumn migrant, waterbird species is the Eurasian spoonbill [
Platalea leucorodia
]. We see this bird at various locations along the south coast with Lodmoor being one of its regular haunts through the winter months. Generally there are only a few birds there, but further along the coast around Poole harbour much larger numbers are visible at times. The Brownsea Island lagoon recorded the largest flock ever seen in the UK at the end of last year with 47 birds being counted. Most of my photos of the species have been taken at either Lodmoor or Brownsea so, to complete this section of my quarterly diary, here is a photo of one I saw early one morning at the end of September on the
Lymington-Keyhaven Nature Reserve
, which I regard as the eastern boundary of my local patch.
Trips
In July we were back in Africa for another safari - this time in
Tanzania
, staying four nights in Selous and a further five nights in Ruaha. These two regions can provide quite different wildlife experiences and combine well, with regular connecting internal flights from a number of bush airstrips. We'd only been to Selous once before, back in 2012 so, five years on, wanted to return, but this time opting to stay further south at a more remote camp on the banks of the Rufiji River. My original 'travel section' write-up about the Selous Game Reserve, which can be found
here
, has been updated to incorporate details of this trip. We then transferred over to Ruaha where our base was once again the Mwagusi Safari Camp, which we've been lucky enough to have visited on three previous occasions. Some general information about Ruaha National Park can be found
here
.
One of the pleasures of a safari is that every trip is different, and every game drive a mini-adventure in its own right with the possibility of a special encounter around every corner. On this particular trip, we started off on the river and driving around the nearby wetlands, which obviously is a totally different experience from being in the bush. We knew that at this time of year it would mainly be birds in this area, but these would be species we wouldn't find in Ruaha. Of course, we saw animals as well, including a good leopard sighting, but there was nothing particularly out of the ordinary that warrants a specific mention within this diary entry.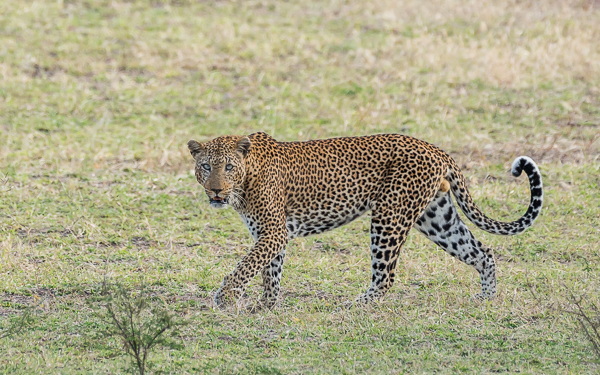 During our time in Ruaha over the next few days we expected to see more animals than we did, particularly lions, elephants and buffalo. Yes, we saw all of these, but in far smaller numbers than we've seen previously. This was our fourth visit to the area, and our third at this time of year, so it was a bit of an eye-opener. I'm not sure whether it was simply down to the weather and the fact that the animals were not as concentrated as they are once the waterholes start drying up, or whether it was due to declining populations. All I know is that when comparing my notes and photos from our previous trips in 2012 and 2014 with this year there is a very noticeable difference. However, whilst this is a point worth mentioning, it didn't take away any of our enjoyment because, as noted earlier, virtually every game drive produces at least one interesting encounter. Some will be just that, but others will be more memorable. A prime example being a relatively rare event that we witnessed on our last morning.
Over the preceding couple of days we'd spent some time watching a small family group of lions that consisted of two adult lionesses and their subadult offspring, being three young females and two males. They were part of the ever-growing Bushbuck pride, which we've seen and photographed during previous trips to this area. Recently the pride has started to break up due to its size and, although there would be times when they would all be together, it's not unusual to find them in small groups like this. We've seen as many as sixteen members of this pride together in the past, but there were now around double that number, which is a lot of mouths to feed and, consequently, a situation that can become a problem at certain times of the year when it's more difficult to catch prey. Members of this pride roam over a very wide area and, therefore, our guide was not surprised that we'd only come across this particular group during the short time we'd been at the camp. There was also a coalition of three mature adult males in the general vicinity, which we'd been hoping to see but, prior to this particular encounter, we'd been unsuccessful.
Anyway, on this particular morning, we'd been driving along a track above the dry Mwagusi river bed when we spotted a lioness laying out in the open. We drove down to a small clearing from where we could see another six lions scattered across the sand. We quickly identified them as the same small family group. But something wasn't right, because after watching them for a short while it was apparent that they were not at ease, which is probably why they were laying out in the open where they could see what was going on around them. One of the two lionesses looked very uncomfortable and kept looking over her shoulder as though she was expecting something to happen. The others must have had the same feeling as suddenly they all became very alert with the two subadult males becoming particularly agitated. The reason soon became clear when one of the marauding males I mentioned earlier came into view. He was clearly not happy about the situation and made an instant beeline for one of the young males. This was bad, as unfortunately he wanted to kill the youngsters as they'd been sired by one of the Bushbuck pride males and, therefore, could become a threat in the future when they become fully grown.
Both the subadult males now made a hasty retreat in different directions, with one of them being chased by the adult. At the same time the other two adult males took us by surprise as they emerged from bushes close to where we had parked and, although they seemed content to stand back and watch what was going on in the river bed, it was pretty evident that there had been another encounter, probably during the early hours, as one of them had a painful-looking fresh wound on one of his legs.
The situation was now extremely tense with one of the adult lionesses becoming very anxious as she obviously knew the danger the two young males faced. To make matters worse, the one that had been chased off had now outrun the adult and had made his way back towards the group. He was lingering in the background, making sure he was well away from the danger zone, but because he was in sight it just fuelled the situation. By this time, the other two males had made their way down into the river bed to join their compatriot who was slowly making his way back from the other direction. We saw that he was also wounded, so it was almost certain that what we were now witnessing was just the latest episode of an encounter that had probably been going on for some time before our arrival. All this time the three subadult females were keeping a low profile by laying perfectly still. Like the adult females they weren't under direct threat but, with tensions high, it was better to be subservient, which is exactly what the other adult lioness was doing, even to the point of greeting one of the males in a somewhat seductive way.
Unfortunately though, the already highly-charged atmosphere exploded into action with the returning male rushing in very aggressively and, presumably in error, attacking one of the young females. Although classed as subadults, all five of these young lions were still very powerful animals and not that much smaller in size than the adults, so she naturally defended herself against the male, giving him a raking claw cut to the side of his face. The youngster's mother was quickly there to defend her, but the aggressive male was happy to take them both on. For the next couple of minutes it wasn't clear who was actually fighting who, particularly when one of the other males also became involved. Although the fight didn't last that long it was very ferocious.
And then, almost as quickly as it had started, it stopped. The unlucky subadult lioness was left quite badly wounded, and both the adult lioness and the male perpetrator also sustained various deep bloody cuts. The young lioness had gashes to both her back legs with one being particularly deep, such that we initially thought that she might not be able to walk.
Over the next hour or so we continued to watch them, but it was like a Mexican standoff with none of them wanting to move. The wounded young lioness and the adult male lay just a few metres away from each other, with our guide explaining that she dared not move for fear of being attacked again. Although the male would have realised his mistake this youngster was now clearly in his sights. The two subadult males were still hanging around at distance and the other two young females were still where they were when all of this started a couple of hours earlier. The other two adult males were close to the two adult lionesses and, for anyone who came across the scene now, it would simply look like a pride happily lazing around. This encounter would run, so we left them alone and had to accept that this was nature and what happens in the wild. Some people think lions have an easy ride being the apex predator in their environment, but when you spend time with them and get to understand the life they lead you realise that survival in the wild is tough on every creature, wherever they are in the food chain. The situation of adult male lions killing cubs is well documented, but full-blown lion fights of the nature we'd seen are pretty rare. In fact, our guide said that whilst fights like this between adult and/or subadult lions obviously happens from time to time, it was only the second such encounter that he'd personally witnessed during the ten or so years he'd been guiding.
Personally, I was caught in the moment where, as a wildlife photographer, you tend to take photos if you can, and think about what was actually happening afterwards. The action is so quick that you end up seeing more of what happened from the photographs. In this case they are not very good as the fighting took place in the river bed below where we were parked and from where I only had a partial view under overhanging branches. There are times on safari where you need to put the camera down and sit back and just watch what is happening. This is when you learn about animal behaviour and how they survive. But, there are other situations when you have to try to capture what is happening - this was one such occasion.  
In September, and in complete contrast to our Tanzania trip, we drove up to
Scotland
to stay in Carrbridge near Aviemore for a couple of nights, followed by a week in a remote cottage in the Highlands, northwest of Inverness. Unfortunately though, due to a combination of poor weather and problems with my Land Rover, the trip was rather compromised from a photography point of view. But, despite the rain, we managed to get a few reasonable shots of red grouse from the car window around Lochindorb, and a few photos of mountain hares in the Findhorn Valley during the time we spent in the Cairngorms region.
However, shortly after arriving at our final destination, the car gave us a red warning light and went into 'restricted performance' mode. This was about midday on the Saturday, so nothing could be done until the Monday morning. Luckily there was a major Land Rover dealership and service centre in Inverness. I was there at 8am on Monday and after less than an hour's wait they had it hooked up to the diagnostic machine, which confirmed there was a transmission problem. A subsequent smoke test revealed I had a split hose, which was not in stock so had to be ordered. But, they did get it the next day, and by 5.30pm on the Tuesday I was driving back to the cottage, nearly £400 worse off, but with the problem fixed. I certainly can't complain about the service from Land Rover, which was excellent, but it was really annoying since it massively restricted what we could do for virtually four days of our stay.
During the week, we did manage to visit Rogie Falls near Contin, Glen Affric, RSPB Fairy Glen and Chanonry Point, all without a single photo being taken! So, on our last day, we decided to head back to the Findhorn Valley and hope that the weather would be a bit better than it was previously. It wasn't. It was cold and windy, and raining on and off. You just have to embrace it, so with rain on our glasses and cameras, we spent another three hours clambering up and down the hillside, which was actually rather nice as we had it all to ourselves. I spotted more hares than I did on the first visit, but had to settle for just a few long distance shots, which was a bit disappointing. I did manage a couple of bonus shots though of an extremely active dipper that was making its way up the stream.
Back at the cottage, we spent each evening trying to photograph badgers and a pine marten which would emerge from the woods after it was dark. This was only the second time we've seen a pine marten, so we were initially just delighted to be able to watch it from the cottage window. Neither the badgers nor the pine marten were fazed by the lights, but we could only just make them out in the gloom. After a couple of nights, I set up a small LED light to illuminate a stump where we'd left out some food. This was quite successful, as it didn't put them off at all. The problem though, was that the badgers would arrive shortly after dark and proceed to eat everything we'd put out. They'd finally head off, and we would sit there waiting in the hope that a pine marten would make an appearance. In total we had four relatively brief sightings. One was a largish adult, which we guess was a male. Another was a smaller adult, presumably the female, and to our surprise we also had a visit from two playful youngsters. But their visits were very brief and, consequently, it was difficult to manage any decent photos. And, despite using off-camera flash, I couldn't avoid flash-eye. I think that if you could deter the badgers and sit back and wait you could have some success with a couple of remote flashes, but at the moment I'm just pleased that we got to see them.
xxx
Other events and news
BirdFair
In August we travelled up to Rutland Water again for the British Birdwatching Fair, more commonly known as 'BirdFair' - an annual event in its 28th year. Apart from the fact that this time we went with a couple of photography friends it was much the same as last year, reported
here
, so I see little point in repeating similar comments.
D850
Now, far more interesting news, was Nikon's announcement on 24th August regarding the launch of their new, high-resolution, full frame camera - the D850. I doubt that anyone who is reading this will have read all my previous write-ups about waiting for a D900 - a camera that I hoped would be released to fill the gap between the D750 and the D5. This was on the basis that the D810 is a specialist high-megapixel camera and, therefore, separated from the mainstream full-frame line up. The new model I was looking for would probably be around 24MP, shooting at 7/8 frames per second. It would have the D5/D500 AF system and would give me virtually everything I was missing - see
here
(the D810 struggles in Finland - see footnote ),
here
(D810 - not for 'action' or high ISO) and similarly
here
(final paragraph). It was a bit of wishful thinking. A bit like waiting for the mythical D400 but then, just as you're starting to give up hope, Nikon surprising us with the professional level, high-specification, DX crop-frame D500. The situation with the D850 is not dissimilar, albeit with a shorter waiting time. Despite all the rumours that were circulating prior to launch, I think it's fair to say that Nikon has still managed to impress everyone with what they're offering. Okay, I had the name wrong, but my hunch about the D900 was purely because I couldn't see Nikon's millennium year passing by without something of note being announced. But what I certainly didn't expect was a camera that would be both high-resolution and relatively high-speed. Everything rolled into one. A camera that would meet the requirements of many. A camera, that to a degree, takes the D500, D810 and D5 and puts them all together.
So yes, not surprisingly I have one on pre-order. If it's what its cracked up to be, and the high 46MP sensor doesn't prove a step too far for handholding then, in theory, it's almost the perfect wildlife camera. It won't have the really fast 10-12 fps shooting speed, or indeed the low light, high-ISO, performance of the D5, but there has to be some compromise. I intend to fully evaluate the camera and, for personal reference, have decided to keep a D850 diary, starting with the problems and experiences I've already highlighted with the D810. I will then compare the specifications of the two cameras in respect of the features that affect me and, over time, see how if new model improves my photography. I will set this up as a sub-section of 'my gear' together with a direct link from the home page.