2017 diary - Q2 (April - June)
Ref:
Date:
Location:
Photographer:
[clikcontent type=paymentBuyLink replaceable=true]
Ref:
Date:
Location:
Photographer:
[clikcontent type=paymentBuyLink replaceable=true]
Local days out
I was out and about locally quite a few times from mid-April and through most of May but, due to our overseas trips, only once in June. The following is a summary of the main places I visited and what I managed to see.
I started with a few early morning sessions at
Martin Down
which, despite being off the main Blandford to Salisbury road, is actually just inside the west Hampshire border. Here I photographed whitethroat, yellowhammer, corn bunting, stonechat and wheatear, plus roe deer in one of the adjoining fields. My time with the deer was interesting so I've incorporated a separate entry about roe deer below this summary report. I located a cuckoo on my second visit, but unfortunately it flew immediately it sensed my presence. I also tried to find a turtle dove, which are sometimes present at this site, but without success.
xxx
At the end of April I had a long walk round
Morden Bog
, but apart from a few stonechats, a pair of linnets and a solitary redstart I didn't get remotely close to any other birds except for a pair of Canada geese that were on a small pond, which strangely I've never been aware of before despite a number of previous visits to this site. I also came upon a roe deer near the pond - more about that encounter later. By about 10am I'd completed a long convoluted circuit and was back near the road so, being just outside Wareham, I decided to drive down to
Stoborough Heath
. I had a nice long walk, but it was even quieter than Morden Bog.
In fact I walked over six miles that morning, but took just eight photos! That's wildlife photography I suppose and, whilst I don't expect to come back with a card full of images every time I go out, I would hope to seek something out at this time of year.
Fortunately I had a more productive time down at
Keyhaven
, which I'm starting to rank as my favourite and most reliable local destination. I just wish it was closer as it's about an hour's drive for me, subject to the traffic, and you need to get there early. I made two visits in May, photographing whitethroat, reed warbler, various finches and a few other passerines.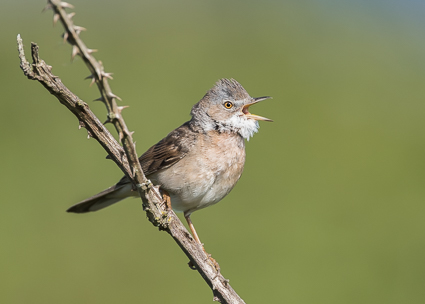 xxx
Also a surprise early arrival Bar-tailed Godwit still in its breeding plumage. There were a few other waders on the lagoons together with various ducks and geese, but nothing that was really close enough to photograph. The same for the marsh harrier that I saw a number of times on both visits and also with a small flock of sandwich terns feeding out in the Solent. All too far off, as was the black-winged stilt that had been reported that morning.
And, to add to the roe deer photos I'd taken at both Martin Down and Morden Bog, I took a few shots of one that I spotted out on the marsh which was unusual. I also went back in early June between our overseas trips when I walked right through from Keyhaven to Lymington and back again, which was very enjoyable, although nowhere near as productive from a photography point of view as the two previous visits.
One of the closest local sites we have is
Longham Lakes
just outside Ferndown. It's one of those venues where you never know what you're going to see. It can be very quiet or, at certain times of the year, it can be reasonably productive particularly for waterfowl and reedbed birds. Tris and I had a morning there in the middle of May, which turned out to be one of those visits where you don't really see much, but come away with a few good photos. As I noted earlier, that's the thing with wildlife photography, you just never know what you're going to see. You can go out and have plenty of sightings with few decent photo opportunities, or see next to nothing, but end up with some great shots. Sometimes though, it's simply down to what you want to see. This was the case with Longham Lakes as I was specifically looking to photograph a male reed bunting in its natural habitat, and that's exactly what I managed to achieve. In fact I got about half a dozen shots of two or three different birds that I was happy with so, regardless of anything else, the morning was a success.
We also had an enjoyable half an hour just after we arrived watching a loutish group of male coots that were all full of testosterone and looking for a fight. These are often regarded as play or practice fights, but when you see them at it close up, you realise that they're not playing. Claws and beaks are being used to maximum effect, either to hurt their opponent or to try to hold him down under the water. Blood was drawn on more than one occasion, but they would all come back for more. As soon as one fight finished another started - time and time again.
Roe Deer
[
Capreolus capreolus
]
Regarded as being primarily crepuscular (active during the twilight hours) it's not surprising that roe deer are most often seen shortly after dawn or just before dusk. Virtually all my sightings have been during early morning sessions in open forest or near wooded areas where they can often be seen feeding on adjacent cultivated farmland; but rarely venturing into fields that contain or have contained livestock, particularly cattle or sheep, as they will only eat fresh clean grass. They are an attractive medium-sized deer species, graceful in movement and naturally wary. The males are called 'bucks' and the females 'does'. Bucks are territorial, particularly during early summer. Mating normally takes place during late July or early August, the period known as the 'rut', when bucks will compete with each other in order to lay claim to an area. However, roe deer are unique amongst deer species in that they delay and, consequently, extend the development period (a reproduction strategy known as embryonic or obligate diapause) to avoid giving birth during the cold winter months. This results in a 10-month gestation period, such that their young will be born during late May or early June of the following year. Females can give birth at two years old and will normally produce one or two spotted offspring, which are known as 'kids' or 'fawns'. They will remain safely hidden, usually in long grass, for up to three months where their mother will suckle them several times a day. When fully grown they stand 600-750mm high at the shoulder and weigh between 10-25kgs. Their colour varies during the year with a bright rusty-red coat during the summer months, turning to dull slate-grey in the winter. New borns are spotted as previously noted. Both sexes have a prominent white rump and no tail. Only the males have antlers, the first and second set of each are unbranched and short. Older bucks will usually develop antlers up to 200–250mm long with two or three points.
Whereas my roe deer photos at both Morden Bog and Keyhaven were opportunistic shots on spotting the deer, the photos taken at Martin Down were more controlled and thought out. As we know, deer will invariably see you before you see them. If they're at distance and relaxed they'll probably look at you and then carry on with what they were doing. However, if you're close to the edge of their comfort zone, they'll more likely keep perfectly still whilst keeping a constant eye on you before turning and bounding off towards cover. Sometimes they move off quickly, but on occasions they're happy to stay where they are even if you're slowly edging towards them. This was the case at
Morden Bog
in late April after I happened upon a female lying down in the heather. Fortunately I wasn't too close when I saw her, because my immediate thought was that she might be with a newly born fawn, although it was a bit early in the year for that. Instead of moving closer I very slowly backed away towards another track where I took a couple of shots before leaving her in peace. She was in pretty thick heather close to the edge of the woods where she obviously felt comfortable with the situation, despite our relatively close unexpected encounter. The male I spotted at
Keyhaven
was on Pennington Marsh. I was on higher ground looking down on him. He knew I was there, but was happy to ignore me, safe in the knowledge that he had the whole saltmarsh to escape into if he wanted.
xxx
The situation at
Martin Down
however, was different for a number of reasons. Firstly, there were three young bucks together. Whilst capturing two or more subjects in a shot is generally more pleasing than a single animal or bird, they are usually far more difficult to approach in my opinion. In fact I saw the same group a couple of days later out in the open on the down and, despite me being close on half a mile away, they were off as soon as they spotted me coming over the ridge. When I saw them in the adjoining rape field I was much closer, but the difference was that I was approaching them from behind cover and stopped immediately I saw them. Two were lying down at the edge of the field and one was up and licking himself. They spotted me but felt perfectly safe where they were. Fortunately I was on my own and it was early with no one else around. I took my time in edging across to the hedgerow and then slowly along towards them. I had the sun at my back and the hedgerow for cover. After five minutes or so I'd managed to get myself to an area that I thought was just outside their comfort zone. I took a few shots. They watched me, but carried on doing what they were doing. I tried my luck and took another twenty measured paces. They remained and I took a few more shots. I continued to edge closer to a point where I could frame all three nicely at 700mm focal length. I took more shots. The two that were laying down were now on their feet and were slowly making their way across the field margin into the rape where the third one was now standing. They started walking diagonally away from me and I guessed that would be it. A few more shots as they stopped for a while to feed. But then, one did a double-take almost as though he'd forgotten I was there. He stood perfectly still looking in my direction and then, to my surprise, started walking slowly towards me. At first the other two ignored him, but after a while one of them sensed he'd seen something and came up behind. They carried on towards me. I should note that I was standing up with my camera on a monopod - I wasn't laying down in the grass or trying to hide myself other than keeping close to the hedgerow. Unfortunately the days of crawling through the grass are behind me! Anyway, this continued for a while to the point that even though they'd initially moved away, they were now getting so close that I couldn't even frame one of them properly. It was now going to be head shots only. But then, in the blink of an eye, they realised I was human and with alarm calls they were off across the field and out of sight. Wildlife photography can be extremely frustrating at times with so many elements that can go against you, but now and again you get lucky. You just need to put yourself in the right place at the right time.
Overseas trips
At the end of May we flew down to Spain to spend a week in
Extremadura
with well-known local naturalist Martin Kelsey, staying at his small guesthouse 'Casa Rural El Recuerdo' situated 10km or so south of Trujillo. We hadn't been to this particular area of Spain before and, consequently, thought that it made more sense to be guided rather than trying to be independent. Whilst we normally like to do this sort of trip on our own there are times when it pays dividends to tap into local knowledge. I'm glad we did because we certainly wouldn't have seen, let alone photographed, a fraction of what we managed (albeit often at distance and/or in harsh sunlight) without Martin's incredible understanding of the area's varied habitats and the birds that you're likely to encounter there. A short write-up about the region together with a personal day-by-day account about the places we visited and the species photographed on the trip can be found
here
.
A couple of weeks after our return from Spain we were on the overnight ferry from Portsmouth to St-Malo for another trip down to the
Marais Poitevin
area of France. I've written about this marshlands region before, both within my '
2016 - Q3 diary
' entry and '
2015 Annual Trip Summary
', as well as the introduction to the small 'selections'
photo set
that I compiled after last year's visit, so I won't repeat the information again. All I would say, is that this is was our third stay at the same gite and, whilst this year we were earlier than we were in both 2015 (September) and 2016 (July) we really noticed a difference in what we saw. I've previously noted that when we're sitting out on the decking overlooking the canal, and beyond across the fields, there is invariably something to see. It wasn't the case this year though, as it was much much quieter. We were only a month later last year, but unless other factors have come into play, it's amazing how much difference four weeks can make. It was still a very enjoyable and restful week, and we did see most species that we've previously seen, just in less numbers. As a result of which I only took a handful of photos during the whole week we were there.
Other events and news
Reviewing my gear for future trips
Apart from finalising our booking for the Isle of Mull next May and making provisional arrangements to return to Extremadura during late January 2019, we haven't planned any new trips. We have some ideas of what we'd like to do, but a number of factors need to be taken into consideration so, at the moment, we're going to concentrate on what we've already got in the diary.
Following on from that comment, we have a couple of special trips lined up where a fair bit of thought is going to be needed in respect of the photography equipment we should take. The first of these is Peru this November. With a bit of luck we will be photographing a wide variety of species in various habitats, which is great apart from the fact that we'll require different lenses for different situations and will need flash for both evening sessions and daytime fill-light. In addition to a suitable long lens we should ideally be taking a macro and a wide angle lens as well. If you put all this together with the flash requirements and a tripod you have a fair bit of equipment. Even assuming you have suitable kit, you need to think about how you can pack it, whether you can physically handle it, whether it can be taken on the plane, and how practical it's going to be when you're there in the rainforest. And, of course, being in rainforest throws up other problems and considerations not only for carrying and protecting your gear, but also regarding clothing and other personal requirements.
Whilst some trips are relatively easy to plan, others need plenty of advance thought and Peru is definitely one of those. I think it's going to be interesting to list out what I'm going to take and then upon return analyse what worked and what didn't. It will help me in the future and may also help others. I'll come back to this in another couple of months, but in the meantime my initial thoughts regarding cameras and lens options got me thinking about my current kit. I'm relatively happy with my lenses and don't see any need to even think about a new purchase for Peru. However, I have noted that my 300mm f/2.8 has not been used now for many months since purchasing the new 500mm f/4. If I need something shorter I have the excellent 200-500mm f/5.6 or the 70-200mm f/2.8, which would work fine with a 1.4TC if needed. The only thing is that none of these options are particularly great for birds in flight. I'm sure some reading this will disagree, but personally I find the 500mm a tad long and, despite its reduced weight, still too heavy to handhold for any length of time. The 200-500mm is a bit cumbersome and still rather weighty as well as being a bit slow in focusing at times. The 70-200mm even with the 1.4TC is a bit short. So, putting all those factors together I've decided to sell on the 300mm f/2.8 and get the new far more compact and lighter f/4 version together with another 1.4TC, which I'll leave permanently attached. This is the same combo that my wife Tris uses very successfully. Any cash left after completing that upgrade will be deposited in my 'next camera fund'. I won't repeat what I said in my previous quarterly diary other than the headline I used, which was
D810 - not for 'action' or high ISO
. The burning question therefore in respect of Peru, and indeed a couple of other trips we have planned for next year, is will the D810 cut it? The answer is almost certainly not. At times yes, but for low light in the rainforest, no. Would the D5 solve the problem? Yes, without a doubt, but as I've noted before it's heavy and costly. And, sometime next year, there'll probably be a better D5s model available. Would the much smaller D500 DX model be an option? I don't think so. I won't go into the reasons here, but I'm not convinced enough to make what I still believe is a backward step from the FX format. If you've grown up using a crop sensor camera then purchasing a D500 is a no-brainer, but if you've previously switched to full-size format you'll be loath to see reduced IQ to gain reach, better AF or possibly ISO performance. Similarly, I know that the IQ from the D5 would be inferior to the D810. But then the D5 may be getting shots where the D810 would struggle or fail. So, the jury regarding that 'next camera' is still out and may stay out for a while longer unless Nikon surprises us with the magical D900.