European Golden Jackal
Ref:
Date:
Location:
Photographer:
[clikcontent type=paymentBuyLink replaceable=true]
Ref:
Date:
Location:
Photographer:
[clikcontent type=paymentBuyLink replaceable=true]
There are three species of jackal - the
Common
or
Golden Jackal
(
Canis aureus
), the
Black-backed Jackal
(
Canis mesomelas
) and the
Side-striped Jackal
(
Canis adustus
). The two latter species, the Black-backed and Side-striped are only found in Africa, whereas the Golden Jackal is now classified as a sole Eurasian species although, until recently, was regarded as having a number of subspecies across northern and eastern Africa. However, a study published in 2015, shows that the African subspecies were not properly related and, as such, those six subspecies are now to be reclassified as a totally separate species to be known as the
African Golden Wolf
(
Canis anthus
).
As a point of interest, the lineage of the
Golden Jackal
shows that it is more closely related to the Grey Wolf and American Coyote than it is to the other two jackal species.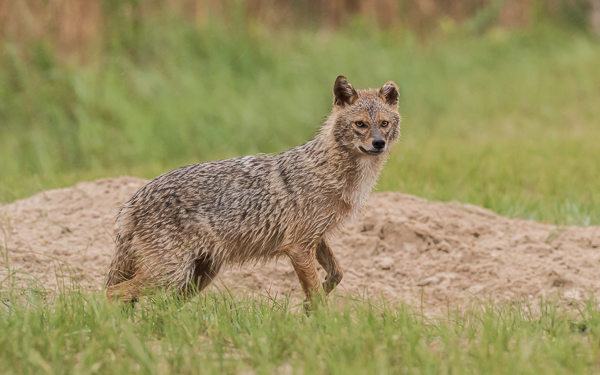 The
Golden Jackal
has seven subspecies across its full European and Asian range. The largest population is distributed across middle Asia where that particular subspecies is usually just called the
Common Jackal
- the other Asian subspecies are the Indian, Sri Lankan, Syrian, Siamese, and Pannonian Jackal.
The
European Golden Jackal
is the largest of the species.
It was the
European Golden Jackal
that we wanted to both see and photograph during our trip to the Danube Delta in May 2016, as the area around where we were staying was one of the best places in Europe to both see and photograph it. They are extremely timid and, although they will roam and hunt during daylight, they will retreat very quickly if they hear or sense human presence, consequently the only realistic chance of photographing them is from a hide. Personally I don't like hides for various reasons, but I've started to realise that they are almost a necessity for certain species. Even though we travel a fair bit and have had some great experiences, there is no guarantee or easy way to get good wildlife photos, so we take opportunities when we can get them.
Unfortunately the weather in Romania wasn't great during most of our visit as can be seen from many of the eagle shots within the photo gallery, but that didn't deter the jackals. We saw them during both of our long morning sessions in the hide - mainly at distance and always on guard. They ventured closer only when the eagles were present. This was strange in a way, because whilst the eagles gave them the confidence that it was safe to approach, the first thing the jackals would do was to chase the eagles off!
Whilst I managed to get a few reasonable photos from the two sessions, it was actually pretty difficult to capture any real 'action'. However, I did get a few snarling shots (see the photo gallery), which I was pleased with as they give a pretty good impression of just how quickly the behaviour of these jackals can change. At times you could be forgiven for thinking they looked like domestic dogs, whereas the next minute they would bare their teeth and look far more like the ferocious wild canines that they are.
It was a great experience photographing these jackals and one that we'd like to repeat someday.