2016 diary - Q1 (January - March)
Ref:
Date:
Location:
Photographer:
[clikcontent type=paymentBuyLink replaceable=true]
Ref:
Date:
Location:
Photographer:
[clikcontent type=paymentBuyLink replaceable=true]
With this being the first attempt at the new 'quarterly diary' I'm not quite sure how to lay it out, so I think I'll adopt a simple approach and divide it into three sections - local days out, trips and then any other photographically related topics.
Local days out
Despite very mixed weather at the beginning of the year we managed to get out locally quite a few times. In January we made a couple of trips down to
Portland
as we wanted to find the short-eared owls, but on both occasions we missed out as they weren't showing in the morning. Late afternoon and early evening seemed a more reliable time from what we heard, but it's a fair distance for us and, for one reason or another, we just weren't around at the right time. However, the juvenile great northern diver that had taken up winter residence in the harbour was more cooperative and reasonably close in on both visits. We also made two trips to
Radipole Lake
in Weymouth just to see what was about. We were hoping for a repeat of January 2015 when the bearded tits were visible and active, but that wasn't to be. But, there were plenty of gulls and general waterfowl about, who always throw up a few photo opportunities. Personally I get great pleasure photographing these species even if they are regarded as common. We also saw the marsh harrier both times, and on one of the visits the male and female were up together and flying just over the other side of the lagoon. Notwithstanding the general distance, which is always a problem, it is very difficult to photograph them from the 'shelter' without getting the distant houses showing up in the background. We also stopped off at
Lodmoor Nature Reserve
during one trip down to the area, but there was very little there at the time. Apparently there's a bit more there now, so I'm sure that we'll be down there again soon.
Keeping west of us, we had a long morning down on the Stour at
Blandford
during mid January, primarily for the kingfishers, but also with the hope of seeing an otter or two. Despite getting there early, we were told by one of the locals that a couple of otters had been spotted at first light, but had disappeared up stream. He'd also just seen a sparrowhawk take a kingfisher which, although it was an incredible thing to witness, was a tragedy as there aren't as many kingfishers on the river as there have been in previous years. I came away with a few nice shots of little grebes, but no kingfisher photos worth saving as the couple of birds I did see weren't cooperating.
Later in the month I had message from a local Flickr friend to tip us off about a couple of pairs of goldeneye being present down on one of the ponds in
Poole Park
, so we took advantage of the sunny weather the following morning and managed a few shots of a pair, although frustratingly the male kept at distance.
Another trip was to
Langford Lakes
in Wiltshire to see what waterfowl were present. We got a few shots of great crested grebe, gadwall and tufted duck, but the unexpected surprise was to come across a barn owl hunting. Fortunately we'd arrived early otherwise we probably wouldn't have seen him. We were also lucky as there was no one else there at that time so we were able to hold a position to watch him and get some shots without interruption, which would almost certainly have ended the encounter. After a good half an hour or so of intermittent hunting, during which time he caught nothing, he took off and headed back to the local farm where presumably he roosts.
January also saw me going east across the New Forest and down to Lymington to explore the other end of the
Lymington-Keyhaven Nature Reserve
. We've always been to the Keyhaven end and despite walking a fair way along have never made it as far as Lymington. The weather and tides were favourable for my first visit and I came away with some nice varied shots - avocet, redshank, greenshank, oystercatcher, lapwing, curlew, brent goose, wigeon, teal and even a kingfisher. Unfortunately Tris didn't come with me so we returned together a couple of days later, but we were not so lucky with the conditions. In fact the day ended badly, but that's another story. We still managed some very nice photos though, including Tris getting some pretty good close up shots of a lone juvenile spoonbill. I didn't for the reason I'll come to later.
Trips
We had two trips away in February and March, which was good timing as the weather here was not very conducive or inviting if you were going out locally without a real purpose.
The first trip was a short winter break in the
Cairngorms
region of the Scottish Highlands in early February. The main purpose of this trip was to photograph mountain hares and red squirrels in the snow, and to see if we could find some crested tits. Although the trip had been booked some months beforehand with this aim in mind, we knew prior to going that snow certainly wasn't guaranteed as the region was having an unseasonably warm winter. Snow falls had been inconsistent and spasmodic even up in the mountains. It either wasn't settling properly, or was only lasting a few days. This was exactly what we found when we first arrived, but we got lucky one day later in the week following a good snowfall ovenight. Fortunately, we were able to make the best of the day, photographing squirrels in the morning in the forest, and then the hares up in the mountains in the afternoon. All in all we were very pleased with what we able to accomplish during the week, but I have to note that the photos of the hares and squirrels particularly, plus the grouse and deer, would not have been possible had it not been for the fact that we'd arranged to spend the last three days of the week in the company of local wildlife photographer Mark Hamblin. It was his knowledge of the area that put us in the right place at the right time.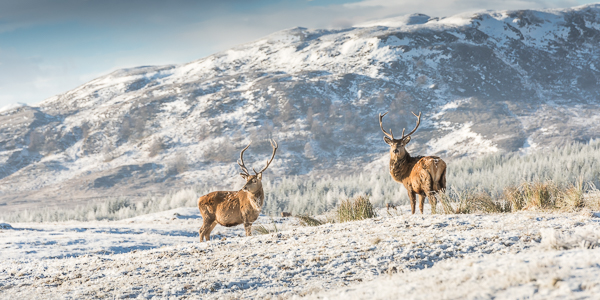 The second was a 'green season' safari in
Tanzania
, where we made a return visit to Mwagusi Safari Camp in Ruaha. This was our first trip to Africa at this time of year. We knew that the landscape would be lush and that the grasses would be high - so different to the dry 'yellow season' that we've experienced before when game is more concentrated around waterholes or any remaining water in the rivers. It's a season of plenty when most of the animals move far away to higher ground, and those that remain are much more difficult to spot, let alone photograph. However, this was primarily a bird photography trip, so any animal sightings were going to be a bonus. We guessed we would see elephant, zebra, giraffe, impala etc, but we didn't expect to see any cats. But, we were lucky as we had a good encounter with a couple of male lions and also with a leopard. The birds were varied, with a further 45 new species photographed, but most of the time it was challenging trying to photograph them from a vehicle. Very often they were simply too far away or, when closer, you just couldn't get the position you wanted. But, all in all, it was a very enjoyable trip.
Other events and news
Broken D810 and new 500mm f/4E FL ED VR lens
I mentioned earlier that our day out at Lymington ended badly. This was because I slipped on some wet seaweed and fell quite heavily taking a lot of the impact on my upper arm. That was bad enough, but I was carrying my tripod, plus camera and long lens at the time. The natural reaction is to try to save your precious equipment and, although, I managed to break the fall a bit, my D810 parted company with my 500mm lens and converter. I'm not sure what hit the rocks first, but the front of the camera completely sheared away from the 1.4TC which remained on the lens. The camera was in pieces. However, the lens and teleconverter amazingly survived to fight another day. In fact I could hardly believe that there didn't seem to be even a mark on the lens. But I was hurting and a long way from the car, and had to carry the tripod, lens and what remained of the camera separately. Tris couldn't really help as she obviously had her own camera to carry, plus she seemed more interested in photographing the spoonbill that had picked that moment to land in front of us! Once home I informed my insurance company and sent the camera body off to Fixation in London for an assessment and quote. In the meantime though I couldn't wait so I took the decision to purchase a new D810. Both Fixation and my insurers 'infocus' responded quickly and, literally a few days later, I received the damaged body back as though I was taking delivery of another brand new D810. So, given that I now had two D810's plus my spare D800, I decided to use the episode as an excuse to upgrade the lens to the new, lighter, version by trading in the D800, the old 500mm lens, plus a couple of other unused lenses that have been sitting in the cupboard.
Tanzania 2017
Whilst in Tanzania we agreed that we wanted to return again in the 'yellow season', ideally combining Ruaha with Selous. We'd stayed in Selous in 2012 and found that the game viewing there was different as you're camped either near one of the lakes or on the Great Rufiji River. Here you'll see animals like hippos and crocs at much closer quarters than you'll see them in Ruaha. Arrangements were made immediately on our return, so we're now booked to go in July 2017. We'll be staying at Sand Rivers in Selous for 4-nights before flying to Ruaha to stay again at the Mwagusi Safari Camp for 5-nights. We generally like to book our trips a year or so in advance because with expensive trips like this you can often make reservations at the current rates, before the prices go up for the next season. It's also a wise move if you want to secure a good room/banda or to make sure you have a particular guide and driver. The other fact is that I do not want to spend the sort of money that safaris like this cost with any risk of being grouped with anyone else on a game drive. We want a private vehicle, or indeed boat in Selous, with our own guide and driver that we can work with throughout our stay. These arrangements need consideration and planning so another reason to book early. Now we have the 'main' trip booked for 2017 we will start to think of other things we want to do.
The Photography Show
The final note for this quarterly diary is to confirm that we went up to the Photography Show at the NEC in Birmingham on Monday 21st March. Although it was very busy it didn't seem quite as crowded as it did last year. The main reason for going, apart from taking the opportunity of having a day out with our elder daughter Donna and her husband Ross who are both keen photographers, was to visit the Nikon stand to have a good look at the new D500 and D5 cameras. It's fine reading the specs and reviews, but it's always nice to feel a new camera in your hands and to be able to see exactly how it's put together and where the buttons are. However close in design, no two different camera bodies feel exactly the same. Prior to my episode at Lymington, and ending up with two D810's, I was trying to convince myself that a D810 and a D5 would make a very nice pair of bodies, which between them would provide the best of all options. But, then Nikon go and announce the D500; a professional grade DX camera that effectively replaces the now dated D300s. I had no intention of going back to the DX format, even as a second body, but when I read that many of the specs and features were the same as in the D5 I had to have a closer look. As well as having a good feel of both bodies we sat through an extremely interesting and informative talk by one of the Nikon Pro support guys who went carefully through the new technologies that these two cameras were using.
The new D500 DX camera sure looks interesting. Some of the key features I like the look of for my style of photography are the professional build, weather-sealed body, that felt good in the hand and not a dissimilar size to my D810, and much smaller, lighter and less bulky than the D5; the sensible size 21MP CMOS 'cropped' sensor enabling an improved frame rate, than that possible with the 36MP D810, of 10fps; an accompanying 200 RAW image buffer; a new 153-point AF system incorporating 99 cross sensors with effective full viewfinder coverage and with 55 selectable points; a separate dedicated AF processor; refined AF lock-on settings; enhanced metering and AF capabilities in low light situations; -4EV sensitivity for the centre focus point and -3EV for the others, which is amazing; repositioned ISO button near the master controls that will make changing the ISO on the fly far easier; a new auto AF fine tune feature which allows lenses to be calibrated with just a few simple steps rather than the laborious task of taking shots of a target and making manual adjustments, etc. etc., and that's not mentioning other things like the 4K/UHD video, tilting/touch screen and SnapBridge connection features if you want them.
I can see Tris upgrading her D610 for the D500 before too long. The problem then will be whether to use the D750 or the D500. Both will have their uses, but I have a feeling that with a lot of our photography being birds the D500 will be used a lot. Time will tell. And, of course, if she gets one, I'll be able to see first hand how it performs and to consider whether one of the D810's needs to be replaced. I really thought that my GAS (gear acquisition syndrome) had subsided, but maybe I was wrong!